The Praxity Alliance
Moores Rowland is a member of Praxity AISBL, the world's largest Alliance of independent and unaffiliated audit and consultancy companies. Recognizing the support arising from globalization we are able to recommend renowned companies in significant countries. Our contacts to these Praxity participating firms enable our clients a professional support in their transnational activities from a single source.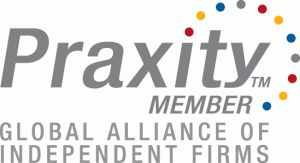 About Praxity
Praxity, AISBL is a global Alliance of independent firms. With the combined fee income of its participating firms totalling 4 billion euros (USD 4.5 billion), Praxity is the world's largest Alliance of independent accounting firms and is ranked in 7th position of all accounting organizations. As of 31.12.2015 , Praxity has 64 participating firms in 103 countries with more than
39,000 personnel operating out of 630 offices according to the International Accounting Bulletin's figures in the League Table of Firms and Associations. Organized as an international not-for-profit entity under Belgian law, Praxity has its administrative office in London.
For more information
Discover more about Praxity on www.praxity.com